Applywith will bring digital revolution to your HR recruiter brand!
Reach better talents, be mobile, be social, save time.
GRAB QUALITY TALENTS DATA
Almost 100% of talents has a professional profile on

LinkedIn, Viadeo, DoYouBuzz, XING, Indeed, Monster

60% of the global Internet traffic is mobile, so you are

Applying to an offer with Applywith is much faster than any traditional apply through application form or email.
Do not get a CV but the talent public professional social profile.
ENHANCE YOUR RECRUITER BRAND
SAVE TIME & REDUCE TIME TO HIRE
Our user-friendly panel of tools will significantly improve your recruitment management :
Unique and user-friendly back office
Intuitive and efficient applicant management
Unified format of Curriculum whatever the community
Possibility to set up alerts
Team member management, send invite to colleagues
Fast set up and publication of new positions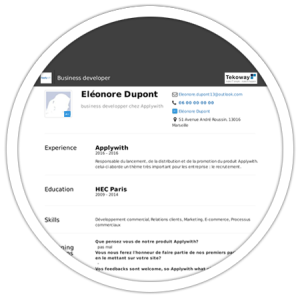 BUILD A QUALIFIED DATABASE OF TALENTS
Personalize the fields a candidate has to fill in for each position (e.g. availability, driving licence…)
Follow up at a glance the whole pool of talents collected
Get social data about your applicants such as number of connections in your company, number of recommendations…
MODERNIZE YOUR RECRUITER BRAND 
Did you know that 60% of candidates make spontaneous applications ? And most of them browse job offers from their mobile or tablet ! That's why it is crucial to modernize the career page of your website using professional networks is a modern and serious way of recruiting. The digital revolution is arriving now in your way of recruiting – Applywith !
REDUCE COSTS
Applywith will help you reduce your recruitment costs :
Free set up
Fast & easy install, no need to make development or integration
Pay per use invoice